Let's show Councilman Krekorian how important this landmark property is to all of us!

Please send comments and your personal photos of your history with Weddington Golf & Tennis (recent or vintage) to post on our site!
Send to: info@SaveWeddington.org
"As a private golf and tennis club open to everyone regardless of age, gender, and ethnicity for an affordable price without membership dues, Weddington Golf and Tennis is in a unique position between a public, municipal course and a private country club. Weddington Golf & Tennis complemented and supported surrounding suburban development in Studio City. Weddington Golf & Tennis stands out for is landscape, specifically, the number and application of trees to define the fairways." – Findings from Cultural-Heritage Commission on April 15, 2021.
Please go to our Take Action page and tell Councilmember Krekorian to support this nomination as written and voted on by the Cultural Heritage Commission and not to water it down with compromises to the developer. The nomination by the CHC is for the property, not just the clubhouse, lights, and putting green, but rather the property as a whole. Don't be fooled or mislead. Your email is your voice and vote on this issue. Be heard!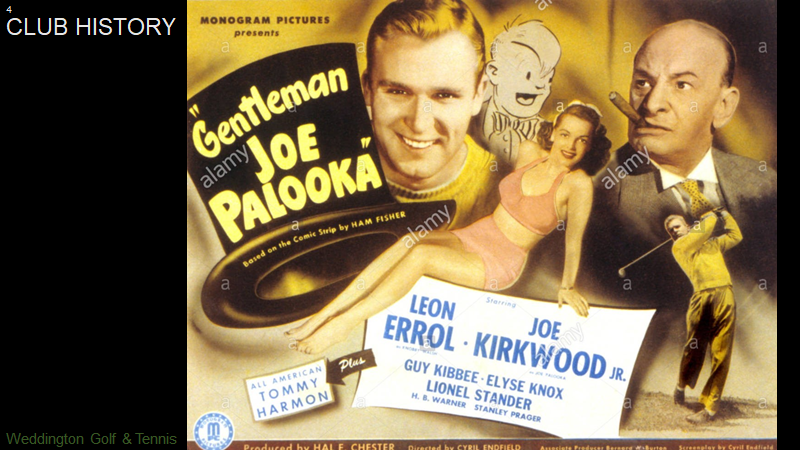 The property was originally a sheep ranch owned by Wilson C. Weddington and was continuously owned by his family from 1890s until 2017.
The golf course and driving range were the brainchild of actor and pro golfer, Joe Kirkwood Jr. ( best known for his role as Joe Palooka) who leased  the land and designed the course. 
Driving range opened in 1955 and the course opened in 1956
Originally known as the Joe Kirkwood Jr. Golf Center, the golf course, driving range and Clubhouse were never a private club, there were no restrictions or covenants and it was always open to everyone.
Operated by the McCallister family from 1957 through 2007, it was known as the Studio City Golf and Tennis Club
Known as Weddington Golf and Tennis Club since 2008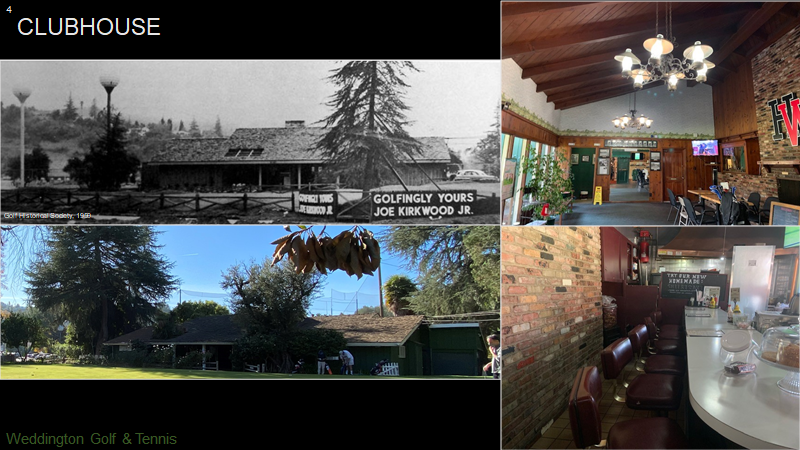 Club house & putting green
Designed by William M. Bray in 1955/1956
Club house design blends in with surrounding ranch houses in the neighborhood long and low one-story with wood siding.    It was designed to be welcoming, like walking into a neighbor's living room. 
Photo taken in 1955 at the top left show it has changed very little since it was completed, except for the trees maturing.
Natural materials on the interior characteristic of the Ranch style including exposed brick at a central fireplace and knotty pine wood paneling were a popular 

décor 

in the mid 1950's.
Coffeeshop at the north side of the club house features a counter with built-in stools, typical of coffee shops of the period.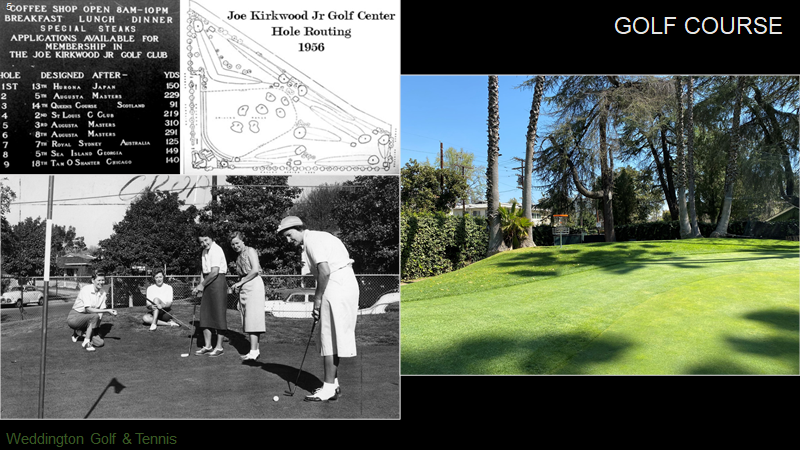 Golf course
The golf course is the centerpiece of the property
Each hole was designed after holes at famous golf courses around the world
Joe Kirkwood was a better golfer than a businessman and sold his interest to George McCallister Sr. and Arthur "Bob" Anderson.
The McCallister family ran the club until 2007. George McCallister Jr. stayed on to manage the property until 2017 when he retired.
George McCallister made adjustments the course to make it more accessible for all skill levels to play. He filled in water and sand traps, etc. but didn't change the arrangement of the holes they still follow their original progression.
McCallister also taught golf clinics at an affordable price, including to women. Other clubs charged $5/hour and McCallister charged 50 cents.  And he created a golf program that included several local high schools such as North Hollywood High.
Post War Recreation
In the post World War II era of prosperity, people moved to the San Fernando Valley to live out their middle-class dreams of a house and yard. Correspondingly, they had more free time and looked for various recreation opportunities, such as golf.
Historically, golf was an elite sport, but attracted middle-class players in the post World War II era. The advent of television brought golf into the average Joe's home and made Arnold Palmer golf's first "star".
This was a par 3 nine hole golf course when it opened in 1955 and it's still a par 3 nine hole golf course in 2021.  
The golf course is a significant designed historic landscape.
It consists of lawns, tees, fairways, greens, and concrete paths for maintenance vehicles.
There are over 350 trees that define the space and boundaries between holes and frame views from the tees to the holes
While the property has experienced some alterations, they are all related to it's evolution as a community golf course over time. As such the property retains a high degree of integrity of location, design, setting, materials, workmanship, feeling, and association to convey its significance.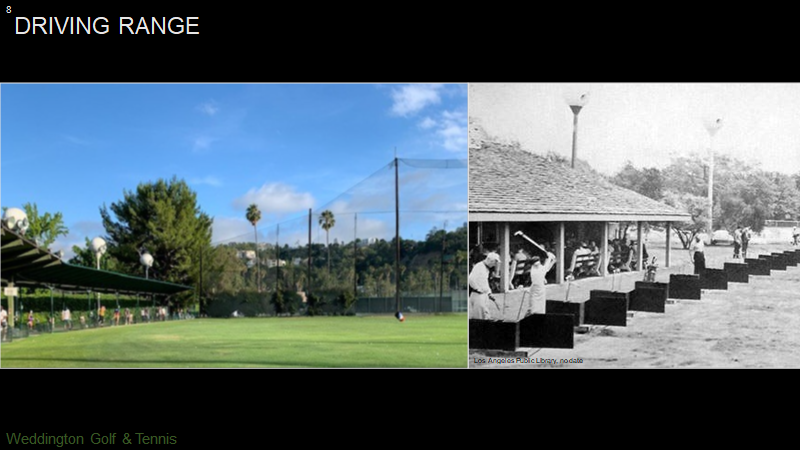 In photo at right, you see many people sitting enjoying a meal, this has always been a spot to talk to neighbors and make new friends.
the draw isn't only the multi-generational game of golf, it has also been a local meeting spot.
The café is still successful and enjoyed by our community. There is no fee to enter the property, some come just for a coffee and a chat.
Same benches are lined behind driving range to watch people practice as one learns by watching. 
This property has been part of community and culture of this neighborhood from the middle of the last century. 
Tennis courts were added in 1974. During this time period many golf facilities added tennis courts as that sport grew in popularity.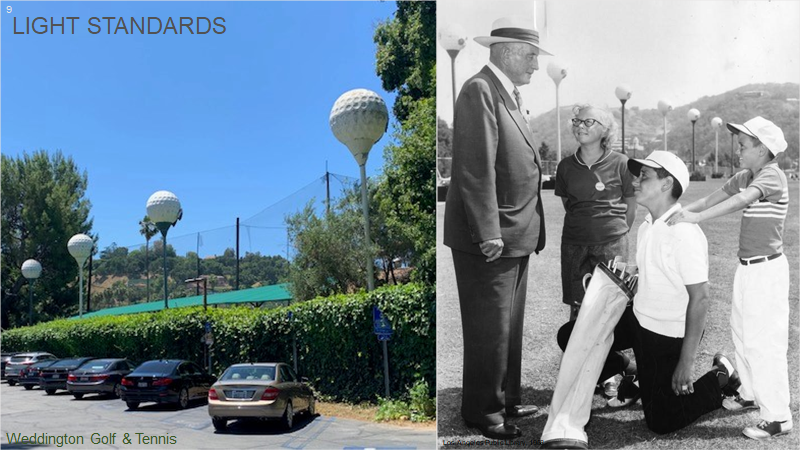 Golf ball light standards are the most visible feature for people driving by on Whitsett. They have always been a highly visible landmark.
They are significant as they are an example of "programmatic architecture" and are iconic and unique.
In the photo on right: "Pioneer developer of the San Fernando Valley Fred Weddington congratulates young flight winners in yesterday's Southern California Short Course golf championship for juniors at the Studio City Golf Course." 1956.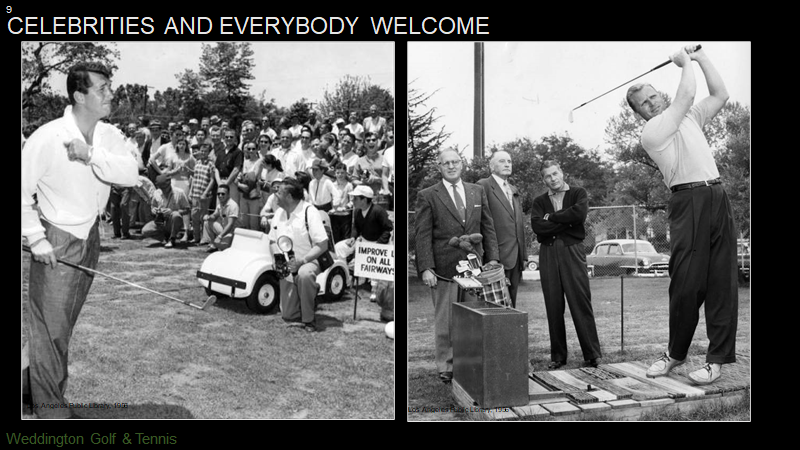 On the right, Dean Martin hits the first ball at the first tournament at Weddington in 1956, on the left Joe Kirkwood Jr. demonstrates his golf swing for classes. From Bob Hope to Will Smith and Cameron Diaz, celebrities and regular folk have gathered to enjoy a game of courtesy and camaraderie with family and friends, values we should strive to preserve.
Below is the Criterion under which Weddington Golf and Tennis strongly qualifies for a Historic-Cultural Monument